Title

: Assassin's Creed: III: Liberation


Platform(s)

: PS Vita


Release Date

:
NA - October 30, 2012
EU - November 31, 2012
JP - November 15, 2012


Genre:

Action Adventure


Publisher:

Ubisoft


Developer

: Ubisoft Sofia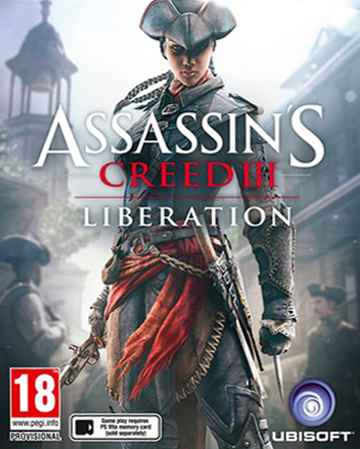 Story:



- Set between 1765 and 1780, and primarily features Aveline de Grandpr, a female French-African Assassin around the end of the French and Indian War.
- Her backstory follows her as she learns to live without her mother at her side and starts to notice the contrast between wealth and poverty, leading her to take a stance against slavery.
- Another modern-day Assassin will be reliving the life of Aveline, instead of Desmond Miles.
- Assassin's Creed: Liberation will be set around New Orleans and the Louisiana Bayou.
- Aveline will cross paths with Assassin's Creed III protagonist, Connor Kenway, in the game.



Gameplay:



- Liberation will also include multiplayer "specifically tailored to the Vita experience".
- Will feature touch controls and support for the camera and Near functionality.
- Touch-screen features will include such things as rowing while in canoes, chain kill combat and the ability to pickpocket people.
- Will have cross functionality with Assassin's Creed III, once linked you will unlock Connor's Mohawk, exclusive character skin, a multiplayer character and a complete ammo pouch upgrade.
- Like Assassin's Creed 3, freerunning in Liberation will include the ability to use trees for travelling and slide under objects.
- Aveline can enter an outfit shop to dress in disguises, which provide advantages and disadvantages for each of the costumes available.
- Players will have the ability to loot victims for equipment and dive underwater.

Characters:

Assassin's:

- Aveline de Grandpr is a French-African Assassin, who lived in the area of New Orleans, at the end of the French and Indian War. She was mentored by Agate, with whom she had a conflicting relationship.



-Agate was the Mentor of the Assassin Order in New Orleans, who also tutored the Assassin Aveline. In his past, he was a former slave who had escaped from jail



Templars/Enemies:



- Mackandal - An enemy of the Mentor of the Louisianan Assassins, Agate, and operated primarily in the Bayou of New Orleans.

- Spanish templars - Three types of guards will be present in Assassin's Creed 3: Liberation, all seen below.





Others:



- √Člise - A smuggler operating in the Louisianan Bayou, who was in contact with and helped the Assassin, Aveline de Grandpr√©.



Locations:



- New Orleans - A city located in southeastern Louisiana, straddling the Mississippi River.
- The Bayou - A swampy area near New Orleans with little dry ground. It was inhabited by smugglers and other outcasts.
- Mexico - A country in North America, lying between the United States of America to the north, and Guatemala and Belize to the southeast.



Combat, Weapons and Gadgets - Uses:



- Liberation will also include a new "touch to kill" option, allowing Aveline to chain kills together once a certain number of attacks have already been executed.
- Players will have the ability to dual weild weapons.
- Dual flintlock pistols - Powerful and load, most effective at medium range.
- Sugarcane Machete - Tool turned into a weapon, versatile in close combat.
- Blowpipe - Silent and deadly, ultimate long range weapon.
- Hidden Blade - An Assassin's favorite.
- Cleavers - Used much like the tomahawk Aveline made hard, hacking strikes.
- Grenades - New to the Portable series but a must have for modern Assassins.
- Whip - Fear the attack as you hear the crack as Aveline is coming for you.



Wildlife



- Alligators
- Horses
- Birds



The Brotherhood:



- Unknown

Multiplayer

Characters:

- Mackandal Bodyguard



Editions:



- Assassin's Creed III: Liberation PS Vita Bundle
White PS Vita[youtube][/youtube]
4GB Memory card
Assassin's Creed III: Liberation

ACIII: Liberation E3 Trailer
Aveline de Grandpr 360 Trailer
GamesCom 2012 Gameplay Trailer'
A Faithful Acolyte (Alternative Run) Gameplay - Gamescom 2012
*Will update with new info when more details are released.*

Last Update: 21/09/12